The daily hustle and bustle can sometimes drain our energy, leaving us craving a simple yet delicious meal without the lengthy preparation time. We can create tasty dishes that fit right into our hectic schedules thanks to quick dinner recipes. This article will walk you through some delicious 15-minute meals for those nights when time isn't on your side. You can savor every bite with fast meals and on-the-go recipes without the extended wait.
1.Speedy Stir-Fry Veggies and Chicken
Ingredients:
● Sliced chicken breast (pre-cooked)
● Assorted vegetables (bell peppers, broccoli, snap peas
● Soy sauce
● Olive oil
● Crushed garlic
Instructions:
Turn a wok or a sizable skillet to high heat.
Once you've added the vegetable oil, heat it till it shimmers. Toss in the chicken slices and vegetables. Drizzle with soy sauce and stir constantly until everything is heated through. Add the chopped garlic and ginger, mix well, and sauté until aromatic, for around 30 seconds.
Serve hot. Best paired with steamed rice or noodles.
A quick tip: Keeping pre-cooked proteins in your fridge can be a time-saving kitchen hack.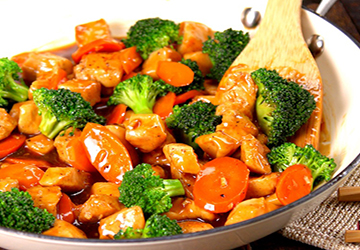 2.Pasta Primavera
Ingredients:
● Cherry tomatoes
● Zucchini (thinly sliced)
● Spinach leaves
● Parmesan cheese (grated)
● Salt and pepper
● Red pepper flakes
● Fresh basil leaves (for garnish)
Instructions:
Olive oil is heated in a big skillet over medium heat. Then, chili flakes and garlic cloves are added and stirred for one minute or until aromatic. Add the cherry tomatoes courgette slices, and sauté for 3 to 4 minutes. Combine everything well in the pan after adding the prepared spaghetti and the cooked vegetables. Over the spaghetti and vegetables, smear some grated Parmesan cheese and enjoy your pasta.
3.Quick Tuna Salad Wraps
Ingredients:
● Canned tuna (drained)
● Chopped celery
● Mayonnaise
● Mustard
● Salt and pepper
● Large lettuce leaves
Instructions:
Combine tuna, celery, mayonnaise, and mustard in a mixing bowl. Mix until well incorporated. Add salt and pepper according to the flavor. Spoon a generous amount of the tuna mixture onto a lettuce leaf, roll it up, and enjoy!
4.On-The-Go Veggie Quesadillas
Ingredients:
● Flour tortillas
● Grated cheese (your choice)
● Sliced bell peppers, onions, and tomatoes
● Olive oil or butter
Instructions:
Warm the olive oil in a skillet over medium heat and add sliced bell peppers and red onion. 3 to 4 minutes of sautéing makes the vegetables soft and slightly toasted. On a spotless surface, spread the whole-wheat tortillas out.
Each tortilla's half should have a layer of shredded mozzarella cheese on it. Also, add some baby spinach leaves on top of the cheese. To make a quesadilla pocket, fold the tortillas in half. The quesadillas should be cooked on each side for 2 to 3 minutes or until golden brown and the cheese is combined. Serve with your favorite dip or salsa, and enjoy.
Quick tip: This on-the-go recipe is perfect for packing as a snack or a light lunch.
5.Rapid Veggie Omelette
Ingredients:
● Eggs (beaten)
● Sliced mushrooms, tomatoes, and spinach
● Grated cheese
● Salt and pepper
● Olive oil
Instructions:
In a skillet, heat olive oil over medium heat. Pour in the beaten eggs. Before the eggs are set, arrange the veggies and cheese over one-half. Once semi-set, fold the other half over the fillings. Cook until fully charged, then flip to ensure both sides are golden brown. Serve with toast or enjoy on its own!
6.Zesty Chickpea and Tomato Salad
Ingredients:
● Canned chickpeas (drained and rinsed)
● Cherry tomatoes (halved)
Sliced cucumber
● Olive oil
● Lemon juice
● Fresh parsley (chopped)
● Salt and pepper
Instructions:
In a bowl, combine the cucumber, tomato slices, chickpeas, lemon juice, and olive oil dripped on top.
Mix well, season with salt and pepper, and garnish with fresh parsley.
Quick tip: This refreshing salad can also be refrigerated and used as a fast meal for lunch the next day.
7.Spicy Shrimp Tacos
Ingredients:
● Medium-sized shrimps (peeled and deveined)
● Taco seasoning
● Small flour or corn tortillas
● Sliced avocado
● Hot sauce or salsa (for serving)
● One lime, cut into wedges
Instructions:
Season the shrimp with taco seasoning. A skillet should be heated to medium-high, and a single layer of the seasoned shrimp in the skillet is put. They should be cooked on each side for two to three minutes until pink and opaque. Place the cooked shrimp on tortillas and top with avocado slices and salsa. Squeeze lime wedges over the tacos to add a zesty kick and enjoy!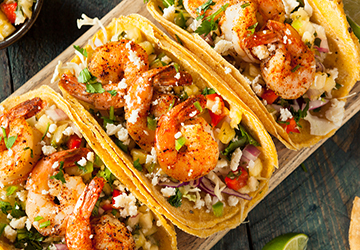 8.Teriyaki Salmon Bowls
Ingredients:
● Salmon filets
● Teriyaki sauce
● Cooked rice
● Steamed broccoli
● Sesame seeds
Instructions:
Marinate the salmon filets in teriyaki sauce for at least 10 minutes. In a skillet, cook the salmon for about 4 minutes on each side or until done to your liking. Serve over a bed of rice, add steamed broccoli, and sprinkle with sesame seeds.
9.Avocado and Chicken Toast
Ingredients:
● Sliced bread (toasted)
● Avocado (mashed)
● Pre-cooked chicken slices
● Cherry tomatoes (halved)
● Olive oil
● Salt and pepper
Instructions:
Spread the mashed avocado on the toasted slices of bread—layer with chicken slices and cherry tomatoes. Serve by dripping some olive oil along with salt and pepper to taste.
A quick tip: This on-the-go recipe is versatile. Switch out chicken for turkey or even smoked salmon for variety!
10.Quick Beef and Veggie Skewers
Ingredients:
● Beef cubes
● Bell peppers (cubed)
● Onions (quartered)
● Mushrooms
● Teriyaki or BBQ sauce
Instructions:
Beef should be cubed into bite-sized pieces and kept aside, and the red peppers, red onion, and zucchini should be cut into chunks or rounds to prepare the vegetables. On the wooden skewers, alternately thread the seasoned beef chunks, roasted pepper chunks, sliced onion chunks, and squash rounds. Brush generously with your chosen sauce. When the beef is cooked to the desired level of completion and the vegetables are slightly browned and soft, place the prepared skewers on the grill and cook for about 2-3 minutes on each side.
11.Veggie and Hummus Wraps
Ingredients:
● Whole-grain tortilla wraps
● Hummus (store-bought or homemade)
● Sliced cucumber
● Sliced bell peppers
● Grated carrot
● Fresh spinach or lettuce
● Feta cheese (optional)
Instructions:
Lay out a tortilla wrap and spread a generous layer of hummus across its center. In the middle, layer the vegetables and sprinkle with feta cheese, if using. Roll the wrap tightly, then slice it in half for easier eating.
12.Garlic Lemon Butter Shrimp
Ingredients:
● Medium-sized shrimps (peeled and deveined)
● Unsalted Butter
● Chopped garlic
● Juice of fresh lemon
● Chopped fresh parsley (for garnish)
● Salt and black pepper (to taste)
● Red pepper flakes
Instructions:
Butter should be melted over medium heat in a big skillet. Melted butter should now have crushed garlic in it. Once aromatic and just browned, sauté for about a minute. Add the shrimp and cook until they're pink. Pour in the fresh lemon juice and sprinkle with salt, pepper, and parsley.
13.Spiced Lentil Soup
Ingredients:
● Canned lentils (drained and rinsed)
● Vegetable broth
● Diced tomatoes
● Minced garlic
● Chopped onions
● Ground cumin and coriander
● Salt and pepper
● Olive oil
● Fresh coriander (for garnishing)
Instructions:
In a pot, heat the olive oil and sauté onions until translucent. Pour in the broth, lentils, and diced tomatoes. Allow it to simmer for about 10 minutes.
Season with salt and pepper, then serve with a sprinkle of fresh coriander.
Conclusion:
Whipping up quick dinner recipes doesn't mean sacrificing flavor or quality. With a bit of preparation and some time-saving kitchen strategies, fast meals are easily within reach. These dishes not only save time but also offer a delightful dining experience. So, on those busy nights when the clock seems to race against you, turn to these 15-minute wonders and savor every bite!